All this celebrating National Chicken Month has got us hungry! So are our sponsors, Avery Hall Insurance.
They've compiled a great set of recipes that features our favorite bird.
Check them out below. Try one this weekend and share your pics on our Facebook page.
Slow Cooker Crack Chicken
Chicken thighs – trim off excess fat
Ranch dressing seasoning mix (can use dip mix if that's what you have)
Cream cheese
Cheddar cheese
Cooked bacon
Green onions
Add the chicken to the slow cooker.
Top with the ranch packet and cream cheese. Wait to add the other ingredients.
How long do I cook?
Place the lid on the slow cooker
Cook on low for 7 hours and do not open the lid during the cooking time.
After the cooking time is up, shred the chicken with 2 forks. I do this right in the slow cooker, no need to remove the chicken and dirty a plate.
Add the cooked bacon then top with the cheddar cheese. Place the lid back on to let the cheese melt. Sprinkle over green onions if desired.
What to serve this with
Over white rice (my favorite option)
Eat it as is if you are on a low carb or keto diet
Over-toasted hamburger buns
Mashed potatoes
Inside of baked potatoes
With crackers; serve as a dip
Add a salad on the side with any of the above options
Angie Strouth
[email protected]| averyhall.com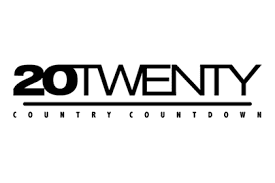 Homemade BBQ Chicken
Prep Time 5 minutes
Cook Time 30 minutes
Ingredients:
1 lb chicken (I prefer boneless breasts, but thighs work)
1 Cup Water
1 Cup Ketchup
1 ½ Tbsp. Brown Sugar
2 Tbsp. Apple Cider Vinegar
3 Tbsp. Worcestershire Sauce
1 tsp. yellow mustard
Make the BBQ Sauce:
Combine water, ketchup, brown sugar, apple cider vinegar, worcestershire sauce, and mustard. Heat on high. Bring to a boil, and reduce heat to medium. Continue to boil about 10 minutes. Stir frequently.
While the sauce is cooking
Using a glass dish, Spray bottom with Pam
Cut each chicken breast in half
Bake chicken until internal 160 degrees (about 20 minutes)
Drain any excess liquids
Add sauce to chicken and continue to bake for 10 minutes.
Makes 4 servings. Can be multiplied, but don't add additional water.
I serve mine with white rice and peas.
Kristin Miles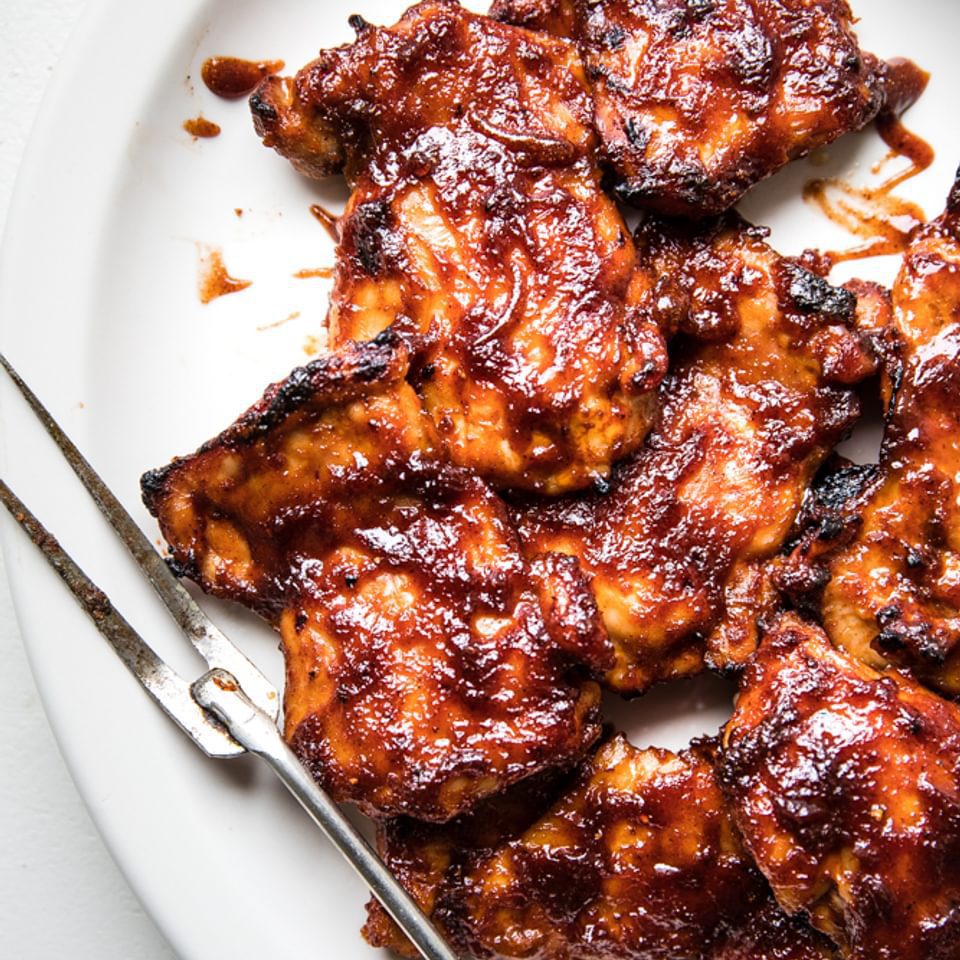 Creamy Ranch Chicken
Servings: 4 people
Prep Time: 10 mins
Cook Time: 35 mins
Total Time: 45 mins
This Ranch Chicken recipe is an easy skillet meal with a delicious cream sauce and zesty Ranch seasoning. Serve it with a side of vegetables and warm baked potatoes!
Ingredients
Chicken
2 large boneless/skinless chicken breast
2 teaspoons Italian seasoning
Salt/Pepper
3 Tablespoons butter, melted
3 Tablespoons olive oil, can sub vegetable or canola oil
Sauce
10.5 oz. cream of chicken soup
1 ½ cups milk
1 cup sour cream, at room temp
½ teaspoon onion powder
1 oz. packet Ranch seasoning mix, about 3 Tablespoons
Instructions
Season/Sear the Chicken:
Slice the chicken into 2-3 thinner slices. Pound with a meat tenderizer if needed, the chicken will plump up more when cooked. Aim for ½ inch thick slices.
Sprinkle each side of the chicken with Italian seasoning and salt/pepper. Brush one side of each piece with melted butter, make sure the butter isn't too hot.
Heat olive oil in a large pan over medium-high heat. Add 2-3 pieces of chicken, (buttered side down), leaving room around each. Sauté for 4-5 minutes per side, until a golden brown crust has developed. Remove and set aside. Repeat with the remaining 3 pieces of chicken.
Pro Tips: Make slight adjustments to the heat, (up or down), as needed during cooking. Add an additional splash of oil if needed throughout cooking. Try to leave the chicken undisturbed as it cooks to get a nice crusty sear. Don't force it up from the pan, it will release when the crust has formed.
Make the Sauce
Remove excess oil from the pot and wipe away any black spots, a little bit of brown leftover is fine, it will add more flavor.
Add all of the sauce ingredients to the pot over medium heat. Stir until combined. Let it bubble gently and reduce for 5 minutes. Add the chicken and spoon the sauce on top.
Cover the skillet partially and let the chicken heat through and absorb the flavors from the sauce, about 10 minutes.
Optional: Serve with baked potatoes and spoon the sauce over each potato, (it is SO good that way)!
Mary Mengason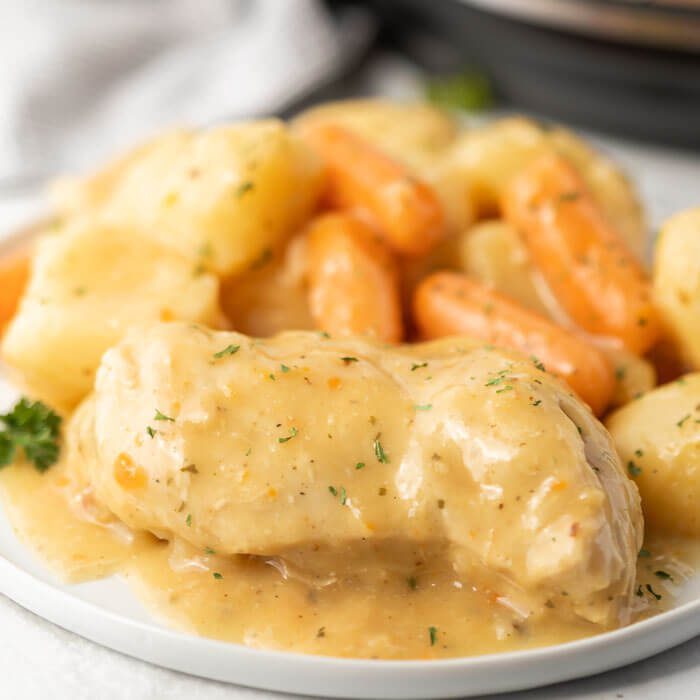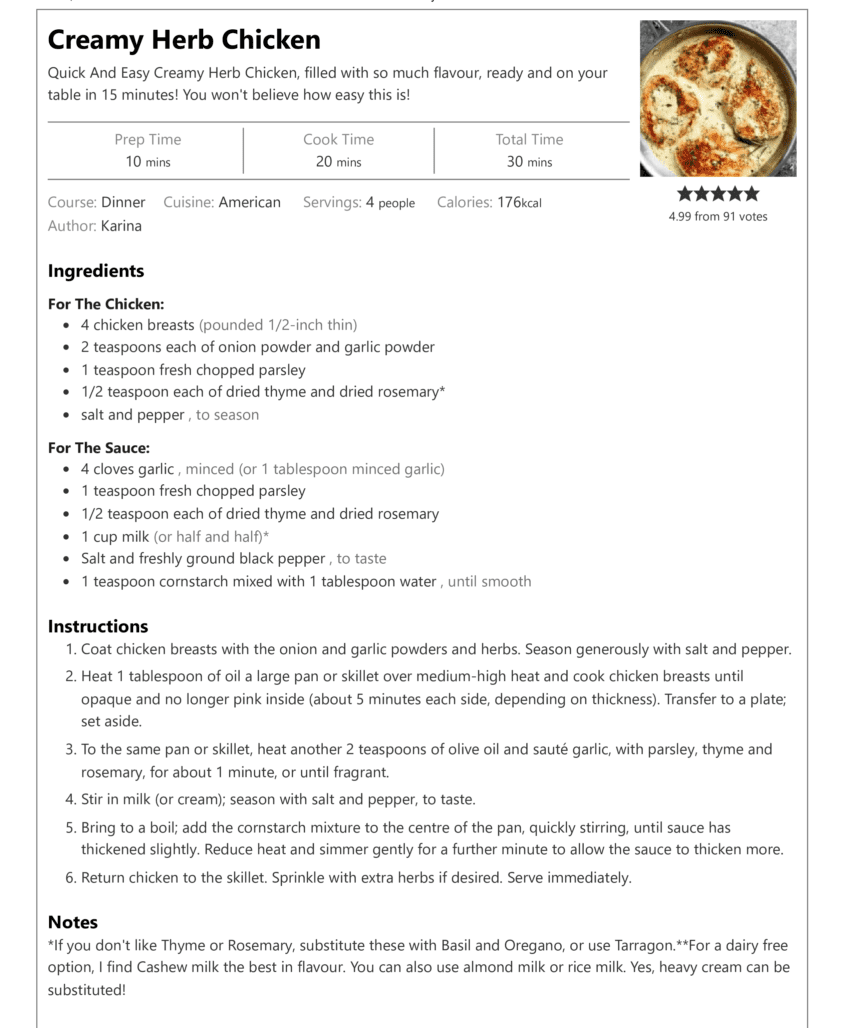 SLOW COOKER CRACK CHICKEN
4 chicken breasts
2 (8 oz) pkg cream cheese
1 packet Ranch seasoning/salad dressing mix
Place all ingredients in a slow cooker. Cook on low setting for 6 to 8 hours, or on high for 4 to 6 hours, or until chicken reaches an internal temperature of 165°F.
Shred the chicken and mix all ingredients until incorporated. You can add bacon crumbles, hot sauce, cheddar cheese, green onions….whatever you like.
Serve on sandwich buns or as a dip. Yummy!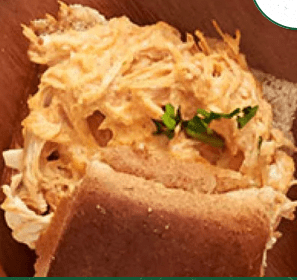 Sharon Gibbons