Holiday fun for your pets with Santa
Mark your calendars NOW because Santa will be at the SPCA Eastern Shore shelter in Onley on Saturday, Nov. 12, from 10 a.m. until 1 p.m. to pose for photos with Fido, Fluffy, or your other furry or feathered family members. Make your Christmas memories or just your holiday card that much brighter while supporting the SPCA Eastern Shore.
For a $12 donation to SPCA ES, attendees will be able to choose their favorite shot from their pet's photo session and receive a 4"x 6" print of it in a Christmas card frame. There will also be 8"x 10" prints available for $18. Those who supply an e-mail address will be sent digital copies of all the pictures taken of their pet or pets. All proceeds from pictures with Santa will benefit Eastern Shore animals at the shelter.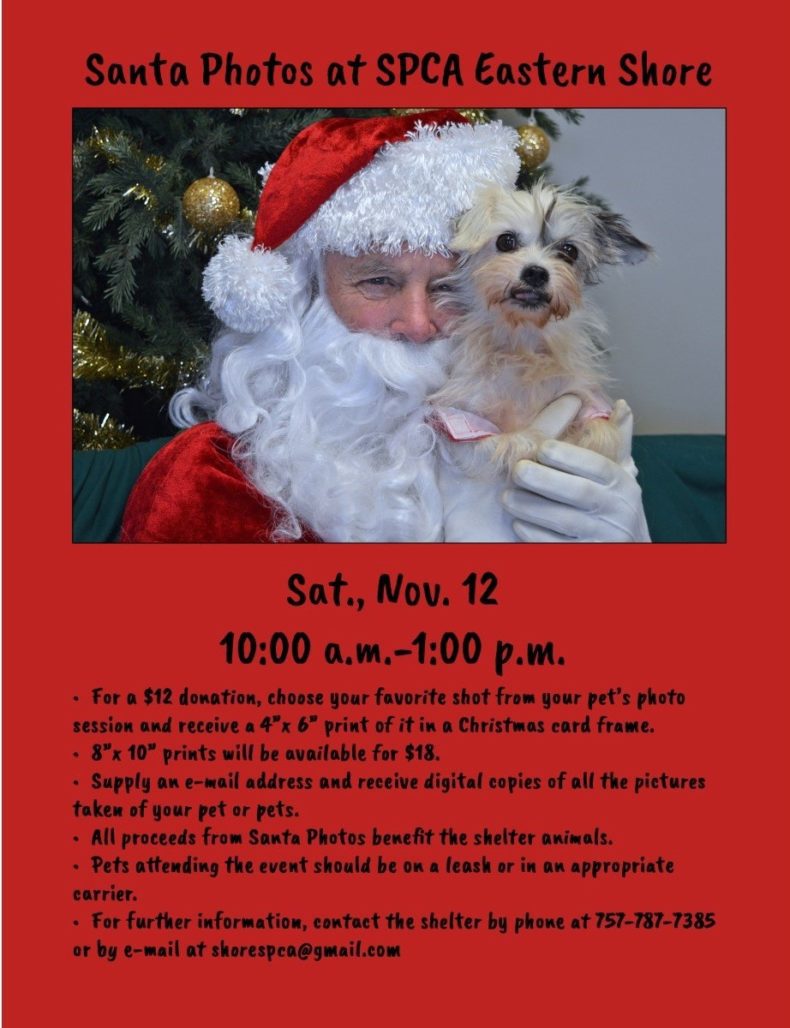 How can I register my pet?
Pets attending photo with Santa the event should be on a leash or in an appropriate carrier. For further information, contact the shelter by phone at 757-787-7385 or by e-mail at [email protected].
SPCA Eastern Shore is a private non-profit, no-kill shelter located in Onley, VA on the west side of Route 13 just south of Nandua High School.
There are lots of opportunities to volunteer or donate to help animals all over Delmarva, and not just at Christmas. They need your time, attention and love if you have any extra to give.
Here's just a few that would love to talk to you.
Worcester County Humane Society
The Humane Society of Somerset County Maryland
Humane Society of Wicomico County
Share your community with us!
From pet events with Santa, to weekly fundraisers and fun all over Delmarva check out our Events Page and listen for community calendar updates daily on Today's Best Music 97-9 WBEY fm.
Do you have an upcoming event? We'd love to share it with the world. Email the information two weeks in advance to [email protected] You can also message us on Facebook with your event. Either way, we want to continue to be part of the communities we serve.