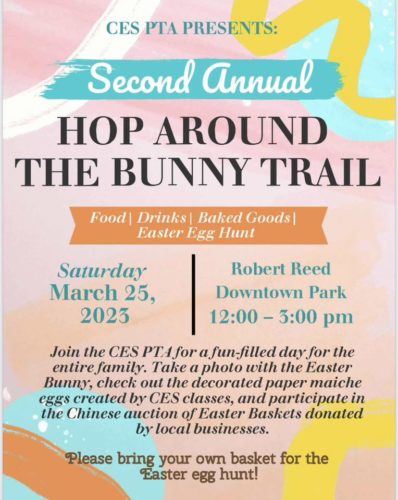 Join the CES PTA for a fun-filled day for the entire family. Take a photo with the Easter Bunny, check out the decorated paper maiche eggs created by CES classes, and participate in the Chinese auction of Easter Baskets donated by the local businesses. Food, drinks, and baked goods will be available.
Please bring your own basket for the Easter egg hunt!
I'd you are interested in donating a baked good item, please reach out to
[email protected]
We are asking for local business to donate an Easter basket to be auctioned off at our shop Around the Bunny Trail on March 25, 2023. The basket can be dropped off that day until 11am, or, we can come by before and pick it up! Your donations are what made this event so successful last year.